Duxbury Braille Translator
Why Update? One major reason is that DBT Win 12.2 can read Word 2007/2010/2013 files.
handles tabular format, Excel files, and can deal with many more languages.
Quick links:
DBT Win 12.2
2017-08-25 (2017-08-25)
What is New in DBT
Duxbury Systems continually revises DBT to make fixes, respond to braille rules changes, and to add new features. The list below covers only changes since the last release. For the most recent information; possibly newer than that included here, please take advantage of Check for Updates from the Help menu. Or, visit the Duxbury Website for both new information and historical information about features and updates.
Primary Areas of Improvement
JAWS script file improvements (see below)
Translated Line is greatly improved and more responsive.
Math improvements (see below)
Contains new BANA 2017 Word Template with numerous improvements.
DBT Templates are now readable text files. This allows skilled users to assemble their own templates much more easily.
New Template for users in the United Kingdom: English (UEB) - UK Formatting (UKAAF)
New Table of Contents Style - UK Basic - which follows UKAAF formatting recommendations.
Improvements to the UEB translator (Unified English Braille) (see below)
New embossers and embosser improvements (see below)
TactileView integration repaired.
Improved Help Content.
Many internal efficiency improvements.
Language improvements (see below)
English UEB
Now supports document-specific Typeform Indicators as defined in the RUEBRules of Unified English Braille Section 9 for inkprint attributes that carry meanings the braille reader needs to know about . A range of such indicators can be defined such as the use of Script Font, Text Color or Highlight Color, as well as Drop Shadow and Outline Text. See the new user interface in the Global: Word-Importer dialogue.
Certain currency expressions, when marked as "technical notation," no longer give rise to an unnecessary grade one word indicator.
When a sequence of single capitalized letters is treated as a passage, the last such letter is included in the passage.
If

[ps]

...

[pe]

(i.e. superscript) codes immediately surround a trademark symbol (U+2122), they are now discarded as redundant.
Contractions of several uncommon medical terms have been improved.
New Embossers and Embosser Fixes
Support for the Braillo 300 S2 has been added to DBT.
TranSend SE is now supported on Romeo 60 and Juliet 120.
JAWS Improvements
JAWS now has better support for the DBT Spell Checker.
When reading a line as braille characters, for multiple spaces JAWS now says the number of spaces instead of speaking each space individually.
The JAWS script files for DBT include several new keyboard commands:

Alt+Comma - once, speaks the current column position; twice, speaks the number of remaining characters on the line.
Alt+Period - once, speaks the number of characters on the line; twice, speaks the number of spaces on the left.
Alt+Slash: speaks the last word on the line.
Alt+Semicolon - new keystroke to toggle between the PC cursor and the JAWS cursor at the start of the translated line.

No digits are missing when you press Alt+9 to hear location information.
JAWS consistently speaks the new page number when you move from one page to another in a DBT document.
For those using JAWS with refreshable braille using grade 2 translation, JAWS no longer says "computer braille" when DBT switches to a braille document window and the JAWS translation setting for refreshable braille changes to computer braille. Those announcements could be frequent, and users found them annoying.
Math Improvements
For translating into Nemeth Code in UEB context, we have solved a problem that caused intermittent errors at the start of math sections, such as a missing numeric indicator for a number at the start of a Nemeth Code section.
When importing a LaTeX file (from Scientific Notebook or another source) to create Nemeth Code in a UEB context, DBT now correctly suppresses the terminating and starting Nemeth indicators where there should be a "pass through in math" section; it also puts in the "one-word switch" where appropriate.
When importing math for Nemeth Code in UEB context, embedded text in a math expression that occurs inside a pass through in math section no longer causes problems.
The translated line no longer drops spaces in certain locations. Specifically, use of the math style now does not cause a space to be dropped on the translated line.
When importing a LaTeX file that uses the command

\includegraphics

, the DBT document now gives the filename of the graphics file.
User Interface
The Global, Word-Importer dialogue has a new option for mapping font characteristics to transcriber-defined Typeform Indicators for English UEB.
Selecting the correct language for Han character import now happens automatically with the choice of a DBT template. (Previously this selection always had to be done manually from the Global, Import Options dialogue, and that option is still allowed if the user wishes to continue to specify the choice directly.)
DBT updates documents immediately when certain global options are changed.
Miscellaneous Changes
We have improved the display of the translated line in formatted print documents for languages that introduce discretionary hyphens.
We have added two spaces to the formatted-view translated line at each place where a tab code is present in the markup.
We have eliminated the introduction of a bullet and space at the start of some "numbered" paragraphs in .docx files, where Word itself does not show them.
Treatment of blank cells in columnar tables has been amended to come more completely into compliance with BANA Guidelines.
The BANA Listed Table format now conforms to BANA Formats 2011 (11.16.1.e), so that for each row, the first element is formatted as a cell-5 heading. (That first element is normally labeled with the column heading.)
A Byte Order Mark, if present, is now stripped from the start of Unicode text imports, particularly when imported through DBT's formatted text importer.
DBT now adds codes to control spacing within the Exact Translation style when importing Word .doc and .docx files.
Language Improvements
| Country | Improvements |
| --- | --- |
| | Biblical Languages: many improvements, including a practical braille-to-print translator. |
| | Bosnian: braille-to-print now uses the new Croatian braille-to-print translator. |
| | Cantonese (Yue): now uses space as a tone mark in restricted circumstances. Has an improved braille-to-print translator. |
| | Chinese Mandarin: improved file importer, improved print-to-braille and braille-to-print translation. It is now possible to mix Chinese and English (English segments must start with a capital letter). |
| | Chinese Mandarin (Taiwan): improved print-to-braille and braille-to-print translators, uses Zhuyin characters intead of Pinyin. It is now possible to mix Chinese and English (English segments must start with a capital letter). |
| | Croatian: now with a functional braille-to-print translator. |
| | Danish: braille-to-print translation properly uses the exclamation mark (when the dropped 'f' is at the end of a word) and better handles a contraction before a period (full stop). |
| | Dzongkha: DBT supports the new braille rules. |
| | IPA: handles the UEB indicators for brackets and slash. |
| | Korean: the braille-to-print translation has many improvements. |
| | Portuguese: now handles four additional punctuation marks in braille-to-print translation. |
| | Slovenian: the braille-to-print direction now uses the new Croatian braille-to-print translator. |
| | Spanish: braille-to-print translation can produce a proper period in all contexts. |
| | Thai: fixed two formerly incorrect characters in print-to-braille. |
| | Venda: improvements in print-to-braille; now includes a functional braille-to-print translator. |
| | Welsh (Cymraeg): fixed some previously incorrect contractions. |
---
---
What does our software for braille look like?
Whether you are blind or sighted, our software comes up as a standard modern application, fully accessible AND fully in tune with the latest advances in operating systems and sister applications.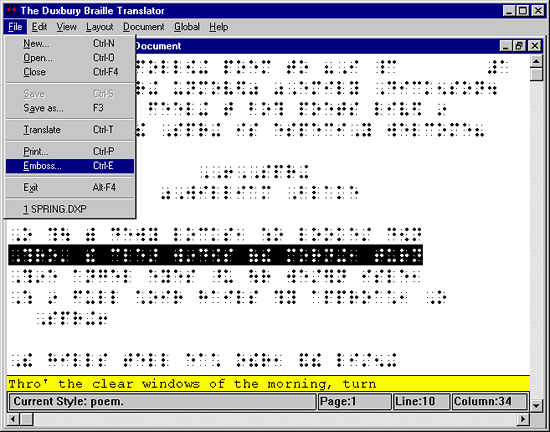 What does software for braille do?
Most people understand the basics about braille: that it provides a reading medium for blind people, using "cells" made up of raised dots in various patterns instead of the characters used in regular print. But many people do not realize that the cells-for-characters substitutions are not, typically, on a one-for-one basis. The process is especially complicated in languages such as English and French where "grade 2" braille is used, involving "contractions" that are based in part upon pronunciation. Formatting of braille pages also involves issues beyond those affecting print. DBT provides translation and formatting facilities to automate the process of conversion from regular print to braille (and vice versa), and also provides word-processing facilities for working directly in the braille as well as the print. "Fonts" are used for displaying the braille.
Who uses software for braille?
Our software is designed for two types--those who don't know braille and those who do. Even if all the braille you know was learned from the previous paragraph, the Duxbury Braille Translator (DBT) will allow you to create highly accurate braille for school books and teaching materials, office memos, bus schedules, personal letters, signs compliant with the Americans with Disabilities Act (ADA) and more. Where you need to be sure of "perfection," we would certainly recommend that you also make use of proofreading (just as you would proofread print books) by a knowledgeable braillist--who may be using DBT as well. That is because DBT is just as important to professional transcribers--for fast conversion to braille from a wide variety of print sources.
Interline Printing

Notable Features of DBT
DBT is simple to use--beginners learn in just minutes. Yet its depth, power and accuracy are such that it is used by most of the major braille production centers throughout the world. The current version provides the following features:
Built-in interline printing (see sample above) to have ink-braille and print together. This makes an easy proofing and teaching tool. Great for the braille-impaired too!
Math/Science Code and Computer Braille translation for American, British, and French Braille.
Intermediate levels (between grade 1 and 2) for American and British braille
The ability to include tactile graphics files for mixed text-and-graphic documents
Imports from popular word processors including Microsoft Word and WordPerfect, HTML, ICADD, DAISY/NISO/NIMAS, formatted and plain ASCII, earlier braille editors such as EDGAR and Polkadot, Duxbury's own historical file formats, and more.
The current translation table menu includes dozens of major languages plus variations, including grade 2 support for most jurisdictions where grade 2 is customarily used. Moreover, DBT allows languages other than the principal language to be embedded in the same file and treated as appropriate for the context. (Contact us if you have questions about a specific language.) Now braille for foreign-language texts and language teaching texts is a snap.
Bidirectional (print-to-braille and braille-to-print) translation
American textbook layout according to Braille Authority of North America (BANA) standards, and likewise the Braille Authority of the United Kingdom (BAUK) customs for the same purpose
Accurate presentation of both print or braille in either WYSIWYG (what-you-see-is-what-you-get) or coded (how-you-get-what-you-want) views in the word-processing screen, with easy switching between views
A "translated line" showing the "other" form in either print or braille files
Six-key chording for braille and print entry, not timing-based, compatible with most keyboards
Help screens throughout the program
Over 100 formatting & translation codes for a high level of flexibility
A library of user-configurable styles
A user-extendable template library for even more flexibility
A spell-checker with 300,000-word dictionary
A "Quick Find Misspelling" feature for increased speed and ease of use
Embossing to all major braille printers; the first page may be a "banner" for job identification by personnel who don't read braille
Choice of single-user, site & other licenses
Unlimited technical support by telephone, email, fax, etc.
An Internet user forum to communicate with other Duxbury users
All backed by a 90-day satisfaction guarantee!
Systems Requirements for DBT Win
DBT Win 12.2 requires Microsoft Windows version Windows 7, Windows 8, or Windows 10 (including Creator Edition).
---
Release History DBT Win
|
Purchase
|
Updates
|
Demo
|
Complete Price List
---
Our new Video:

---
Copyright Duxbury Systems, Inc. Tuesday, September 19, 2017