QuickTac and Tactile Graphics
Tactile graphics are images that use raised surfaces so that a visually impaired person can feel the contours. They are used to convey non-textual information such as maps, paintings, graphs and diagrams. Both MegaDots and DBT support tactile graphics.
Tactile graphics often compress the space between braille characters and the space between braille lines. For example, in tactile graphics, the letter sequence "cc" produces 4 equally spaced horizontal dots. An "l," followed by a carriage return and another "l," make 6 equally spaced vertical dots.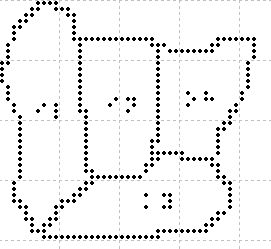 (A Tip of the Hat to Jan Carroll for the QuickTac Graphic)

    Selecting Trace when you Right Click on an Image causes NimPro to launch the QuickTac 4.0 software. This is done with the visual image loaded to make it easy to trace the image.
To use the Trace option, you need to have the QuickTac software installed on your computer. Click here to obtain a copy of QuickTac. Once you save the tactile graphic and exit QuickTac, the new tactile image will be stored with the NimPro file. When you export the file into DBT or MegaDots, the tactile graphic will be part of the DBT or MegaDots file.

   The format of a tactile graphic depends on settings in the embosser you use to output the braille (text and tactile graphics). Be sure to launch QuickTac and configure your embosser in QuickTac before using Quicktac in conjunction with NimPro.